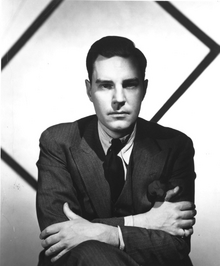 Arthur Everett Austin, Jr. (December 18, 1900 - March 29, 1957) was the innovative and pacesetting director of the Wadsworth Atheneum in Hartford, Connecticut from 1927 to 1944.
Austin was born on December 18, 1900 in Brookline, Massachusetts, as the son of Arthur Everett Austin, Sr. and Laura Ann Etnier. He attended Noble & Greenough School near Boston, Massachusetts, and Phillips Academy in Andover before entering Harvard College in the class of 1922. He interrupted his undergraduate career to work in Egypt and the Sudan from 1922 to 1923 with the Harvard University/Boston Museum of Fine Arts archaeological expedition under George Reisner, then the leading American Egyptologist. After obtaining his degree in 1924, he became a graduate student in Harvard's fine arts department, where he served for three years as chief graduate assistant to the Director of the Fogg Art Museum. He was appointed director of the Wadsworth Atheneum in 1927 and joined the staff of Trinity College in Hartford, where he founded the fine arts department and taught throughout his tenure.
Austin produced America's first comprehensive exhibitions of Italian baroque painting, surrealism, and Pablo Picasso's works in 1934. He also founded The Friends and Enemies of Modern Music, a society that sponsored premieres or early performances of works by composers. In addition, he served as a member of the International Brotherhood of Magicians.
On March 29, 1957, Austin died of lung cancer in Hartford, Connecticut, at the age of 56.
Austin married Helen Goodwin on July 11, 1929 in Paris, France.
Ad blocker interference detected!
Wikia is a free-to-use site that makes money from advertising. We have a modified experience for viewers using ad blockers

Wikia is not accessible if you've made further modifications. Remove the custom ad blocker rule(s) and the page will load as expected.