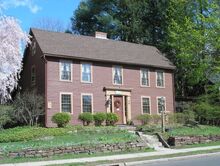 Asa Gillett (1740-1785) was the owner of the Asa Gillett House and the grandson of Joseph Gillett, Jr., one of West Hartford, Connecticut's early proprietors of land. He built the house around 1760, living in the area until his death in 1785, on the east side of South Main Street just north of the famous lexicographer, Noah Webster, Jr.
Ad blocker interference detected!
Wikia is a free-to-use site that makes money from advertising. We have a modified experience for viewers using ad blockers

Wikia is not accessible if you've made further modifications. Remove the custom ad blocker rule(s) and the page will load as expected.