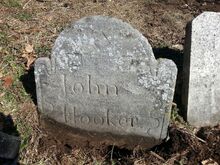 John Hooker (February 20, 1664/5 - February 21, 1745) was a resident of Farmington, Connecticut, and a Judge of the Supreme Court of the Colony of Connecticut from 1724 to 1732.
Hooker was born on February 20, 1664 or 1665 in Farmington, Connecticut as the son of Samuel Hooker and Mary Willet. He grew up in the area and became one of the most noted men of his day. For many years, he was the leading man of Farmington and served as the magistrate, who did most of the business of the town. He was Judge of the Supreme Court of the Colony from 1724 to 1732. He was a member of the Lower House of the Assembly from 1699 to 1723. He then went into the Upper House and served twenty-one sessions of which he was Clerk for two sessions and Speaker for six. He was chosen assistant in 1723 and rechosen annually for eleven years. He was on important committees and was frequently sent to settle difficulties in towns and churches. He was charged with important public trusts as well.
When he married in 1687, his father purchased and gave him a site on the west side of the main street, some distance north of the Meeting House of Farmington, Connecticut, and here he built his house under the branches of a beautiful elm tree, where it soon became a center of generous hospitality, and a familiar gathering place for the sages of the town, who in the pleasant summer evenings seated under the leafy canopy of the Hooker Elm, discussed the passing events, while their long pipes gave forth clouds of fragrant incense, which dispensed among the leaves of the tree. Indeed, the "Hooker Elm" was a widely known feature of the pleasant street.
Hooker died at Farmington, Connecticut on February 21, 1745.
Hooker married Abigail Stanley on November 24, 1687.
Hezekiah Hooker - m. Abigail Curtis
John Hooker, Jr. - m. Mercy Hart
Abigail Hooker - m. Nathaniel Hart
Mary Hooker - m. Samuel Hart
Sarah Hooker - m. Matthew Hart
Joseph Hooker - m. Sarah Lewis
Ruth Hooker - m. Ashahel Strong
Roger Hooker - m. (1) Mercy Hart (2) Anna Kellogg
John Hooker - died young.
Abigail Hooker - died young.
Ad blocker interference detected!
Wikia is a free-to-use site that makes money from advertising. We have a modified experience for viewers using ad blockers

Wikia is not accessible if you've made further modifications. Remove the custom ad blocker rule(s) and the page will load as expected.