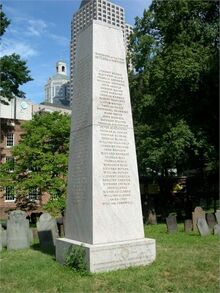 John Talcott (1594-1660) was a founder of Hartford, Connecticut and the American ancestor of the Talcott family. He was one of the early settlers of colonial New England.
Talcott was born in 1594 in Braintree, Essex, England, the eldest son of five children born to John Talcott and Anne Skinner, and the grandson of John Talcott of Colchester, Essex, who lived there in 1558, and died in 1606. The Herald's visitation of Essex in 1558 gives the pedigree and arms of the family. In 1604, when Talcott was just ten years old, his father died. Two years later, his grandfather died, leaving him 40 pounds in his will. When Talcott became of age, he married in 1625 to Dorothy Mott, the daughter of Mark Mott of Braintree, and the granddaughter of John Thomas Mott of Essex.
On June 22, 1632, Talcott sailed with his wife in the ship "Lyon", with others of Thomas Hooker's company. They arrived in Boston, Massachusetts on September 16, 1632. After becoming a freeman and a deputy in Cambridge, Massachusetts, in May 1634, he removed to Hartford, Connecticut in 1636. He built a great barn in that year and lived in a small room that would later become the kitchen of the full house. It was also supposedly the first barn in the entire colony. The porch was built in 1638, with the chimneys constructed in 1638. His home lot, in the distribution of land in 1639, was on the east side of Main Street, and the house stood at the present corner of Main Street and Talcott Street. He was one of the Committee, who for the first time sat with the Court of Magistrates in 1637, and he was Deputy in Hartford, Connecticut, every following year until 1654, when he was chosen a Treasurer of the Colony.
On November 16, 1659, he was treated for stomach paints by John Winthrop, Jr. He died in Hartford, Connecticut on March 29, 1660, leaving his widow, Dorothy Mott.
Children Edit
Mary Talcott - m. Reverend John Russell
Lt.-Col. John Talcott - m. (1) Helena Wakeman (2) Mary Cook
Capt. Samuel Talcott - m. (1) Hannah Holyoke (2) Mary