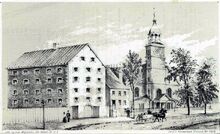 Jonathan Gillett (February 10, 1762 - March 14, 1855) was a prisoner of war during the American Revolutionary War and the great-grandson of Joseph Gillett, Jr., one of the early settlers of West Hartford.
Gillett was born on February 10, 1762 in West Hartford, Connecticut, as the son of Jonathan Gillett and Elizabeth Bradford Steel. When he was nine years old, he went to Lenox, Massachusetts, where he remained with his uncle for seven years. He then returned to West Hartford and learned the trade of a cabinet maker. Around this time, he decided to contribute to the American Revolutionary effort. In 1781, he enlisted in the Revolutionary army. While serving under Colonel Samuel Canfield for service on the Hudson River in New York, he was on duty at Greenwich, Connecticut - also known as Horseneck - and the company to which he belonged was stationed in the meeting house for the night. Suddenly, they were surprised by the enemy, and they marched without food to King's Bridge, which they reached around sunset. They were confined for the night in a house too small to admit of their lying down, and most of them remained standing during the night. In the morning, they were allowed food, and then they were marched to the "old Sugar House," which was located in Manhattan, New York.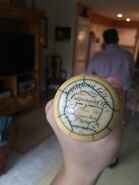 At the Sugar House, they suffered from cold, sickness, hunger, and filth - he remained there for ten months when he was finally exchanged for a British soldier. His account of the wretched conditions corresponded with the narratives of his fellow officers. He spoke of many dying of starvation and disease during his imprisonment. Almost every day, one, and sometimes five or six, were carried out for burial. The bodies were placed upon the ground, and sometimes frozen there before removed. These detachments of their living comrades were employed in carrying them to the Bowery, near the fresh water pump, for interment.
In 1784, two years after he was released, he moved to Canaan, Connecticut, where he remained for the rest of his life. In 1852, he was one of the four surviving prisoners who received canes made of the door posts of the old prison. In accordance with his request upon his death in 1855, the cane was handed down to the oldest son in the successive generation. On March 14, 1855, Gillett - aged 93 years - died in Canaan, Connecticut, being the oldest inhabitant of the town at the time.