Julia Lucy Faxon
(November 6, 1854 - December 15, 1947) was a librarian in West Hartford and the namesake of the Faxon Branch Library, built in 1954 at the corner of Woodlawn Street and New Britain Avenue. She was a member of the Elmwood Community Church and took part in its activities for many years.
Faxon was born on November 6, 1854, to Chester Faxon, the owner of a West Hartford wagon shop, and Lucy Mills. She was the great-granddaughter of Captain Ebenezer Faxon, the proprietor of the Faxon homestead and the planter of elms in Elmwood, West Hartford. She grew up in the local area and attended the school nearby. She was also one of the first attendants of the first meeting of the Elmwood Chapel, which organized in June 1876 on the corner of Grove Street and New Britain Avenue. She was instrumental in the organization of the Elmwood Chapel as a Sunday school in its earlier years as well.
She played a major role in the Elmwood Literary Club, which met at her homestead often. She, with fourteen others, organized the original association in 1897. The Elmwood Literary Club met at Faxon's homestead on November 1, 1899. On November 28, 1899, the Literacy Club met again, in which Faxon read a paper on "Prominent Men in the Revolution" and shorter papers. The Club met for the first time at the turn of the century on January 24, 1900, with a paper that was read by
Ella J. Waters
, the President of the Club. In September 1900, Faxon contributed, with the help of the Goodwin Brothers Pottery Company and other officials, to the new Elmwood school in West Hartford, Connecticut. On March 28, 1906, the Elmwood Literary Club met at Faxon's home at 7:30 pm. In 1913, she celebrated the 40th anniversary of the Elmwood Chapel.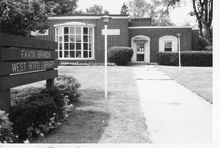 In 1931, the Elmwood Library Association petitioned the Town Council for an appropriation for the reconditioning of two rooms in the old Elmwood school on New Britain Avenue and the supervision of a branch library in that section of the community. On December 15, 1947, Faxon died at Hartford Hospital at the age of 94.