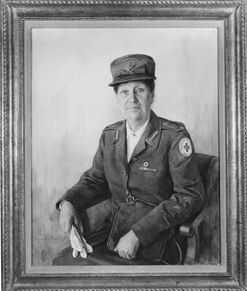 Kate Trubee (February 2, 1871 - January 31, 1962) was a notable figure on Long Island Sound and the founder of the Nassau County Chapter of the Red Cross, as well as a prominent philanthropist for many causes.
Trubee was born on February 2, 1871 in Bridgeport, Connecticut as the daughter of Frederick Trubee and Mary Waterman Baldwin. She grew up in Bridgeport and studied at Miss Salisbury's School in Pittsfield, Massachusetts, and the Rye, New York Seminary. She settled in New York City three years after her marriage in 1893. In 1916, she took the lead in organizing a private effort to overcome the lack of a trained naval air force. She helped to form and equip the First Yale Aviation Unit, composed of Yale students. Some believed that the Naval Air Force had its origins in this private flying group, which trained at Peacock Point, New York. Among its members were her son, Frederick, who fought in World War I. Long a figure in the North Shore society, Trubee was known as the "First Lady" of Nassau County's Red Cross. She founded the Nassau County chapter in Mineola in 1917 and was its first chairman, a post she held until 1944, when she became honorary chairman.
For many years after World War I, Trubee frequently threw open her estate overlooking Long Island Sound to meetings, parties, and other events designed to help a variety of causes. These included social work groups, disabled children, the needy, home horticulturalists, and the Republican Party. For many years, Trubee used to ride silently over the roads of her estate in a 1922 Detroit Electric automobile, a battery-powered vehicle steered by a rudder-stick system, that could travel 20 miles an hour. She started using it extensively during the gasoline rationing years of World War II. In 1944, she received the gold medal of the National Institute of Social Sciences.
On January 31, 1962, Trubee died at her home at Peacock Point at the age of 90.
Trubee married Henry Pomeroy Davison on April 13, 1893.
Frederick Trubee Davison - m. Dorothy Peabody
Henry Pomeroy Davision, Jr. - Anne Stillman
Alice Davison - m. Artemus Lamb Gates
Frances Davison - m. Ward Cheney
Ad blocker interference detected!
Wikia is a free-to-use site that makes money from advertising. We have a modified experience for viewers using ad blockers

Wikia is not accessible if you've made further modifications. Remove the custom ad blocker rule(s) and the page will load as expected.