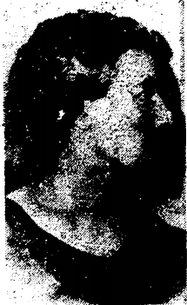 Maude Chatfield (December 21, 1885 - September 29, 1970) was a West Hartford clubwoman and breeder of purebred Guernseys and thoroughbred horses at Longue Vue Farm.
Chatfield was born in 1886 in New Britain, Connecticut as the daughter of Edwin Hubert Chatfield and Annette McCartney. She grew up in New Britain and graduated from an oratory school. After her marriage in 1913, she maintained an accredited herd of Guernseys and horses throughout New England at her Longue Vue Farm in West Hartford, Connecticut. She was a collaborator and director of the Tercentenary Horse Show and Pageant in the region. On her farm, she lived in the Sarah Whitman Hooker house on New Britain Avenue, which she and her husband restored. In 1928, a bronze marker was placed there in honor of the restoration and historic significance of the house.
Chatfield led a drive to preserve the original Noah Webster Memorial Hall in West Hartford Center as well, and to retain the educator's name on the new public library there. She also organized the West Hartford Council on the P.T.A. in 1928; sponsored a night school program for foreigners in the old Hall High School in West Hartford, and was chairman of the local chapter of the National Red Cross. She also sponsored the Junior Red Cross in West Hartford. She was a member of many national organizations, such as chairman of the Bicentennial Celebration in West Hartford in 1954. She was involved in many civic affairs, such as chairman of the local campaign in the 1930s for the National Recovery Act.
In the 1960s, Interstate 84 was constructed through the farm, destroying much of the area. At that time, Chatfield said, "If I were young...I'd take those handhewn logs and wooden pegs that form my barns, and I'd take them out to the wilderness and reconstruct Longue Vue Farm."
Chatfield died on September 29, 1970 in West Hartford, Connecticut.
Chatfield married Ralph E. Gerth, Sr. on August 11, 1913.