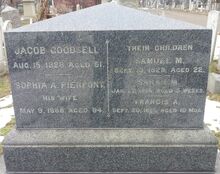 Sophia H. Pierpont (March 9, 1785 - May 9, 1868) was the mother of Willis J. Goodsell, the husband of a 7th-generation descendant of Ozias Goodwin, one of the founders of Hartford.
Pierpont was born on March 9, 1785 in Litchfield, Connecticut, as the daughter of Evelyn Pierpont, an officer in the American Revolution, and Rhode Collins. After her marriage in 1801, she removed to New Haven, Connecticut, where she lived for her remaining years to start a family of eleven children. After her husband's death in 1828, she continued living there for many years. In August 1832, she was struck with a case of cholera, but she recovered.
On May 9, 1868, Pierpont died in New Haven, Connecticut.
Pierpont married Jacob Goodsell in November 1801.
Alfred C. Goodsell - m. Sarah Ludington
Louisa Goodsell - m. Jesse J. Bull
Evelyn Pierpont Goodsell - m. Eliza Tallmadge
Charlotte A. Goodsell - m. Volney Pierce
James H. Goodsell - m. (1) Ruanah Mallory (2) FirstName Stevens
George W. Goodsell - m. FirstName Nettleton
John D. Goodsell - m. FirstName Turner
Samuel M. Goodsell - unmarried.
Sarah Goodsell (1813 - Jan. 27, 1814) - infant.
FrancesA. Goodsell (1814 - Sept. 20, 1815) - infant.
Ad blocker interference detected!
Wikia is a free-to-use site that makes money from advertising. We have a modified experience for viewers using ad blockers

Wikia is not accessible if you've made further modifications. Remove the custom ad blocker rule(s) and the page will load as expected.