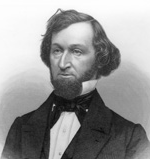 Thomas Hart Seymour (September 29, 1807 - September 3, 1868) was a Democratic politician and lawyer from Connecticut. He served as the 36th Governor of Connecticut from 1850 to 1853 and as Minister to Russia from 1858 to 1858. He was the leader of the peace settlement in the Democratic Party, and narrowly lost the April 1863 gubernatorial election.
Life and Death
Edit
Thomas Hart Seymour was born in Hartford on September 29, 1807 to Major Henry Seymour and Jane Ellery. He was sent to public schools as a child and graduaed from Middletown Military Academy in Middletown, Connecticut in 1829. He studied law and was admitted to the bar in 1833, commencing practice in Hartford.
A judge of probate from 1836 to 1838, Seymour was also Editor of theJeffersonian from 1837 to 1838. In 1842, he was elected to the U.S. House of Representatives and served one term from 1843 to 1845,[2]declining reelection in 1844.
During the Mexican-American War, Seymour was commissioned as a major in the Connecticut Infantry on March 16, 1846, later recommissioned to the new 9th United States Infantry on April 9, 1847. Due to his courageous leadership at the Battle of Chapultepec, he was promoted to lieutenant colonel of the12th Infantry under Colonel Milledge L. Bonham on August 12, 1847.[3]
After the war, Seymour made an unsuccessful run for Governor of Connecticut in 1849, but was chosen the next year in 1850. He served as an 1852 presidential elector, endorsing Franklin Pierce and, in return for his support, Seymour was appointed to serve as minister to Russia and resigned the governorship shortly after being reelected to a fourth term. He accepted the commission of Minister to Russia from President Franklin Pierce.[4] He resigned from the governorship on October 13, 1853, and spent the next four years in Russia, where he built a warm and ongoing alliance with the Czar Nicholas and his son. He served in this position until 1858 when President James Buchanan replaced him with Francis W. Pickens. In Russia, his attaches included Daniel Coit Gilman and Andrew Dickson White. That year, when he returned to Hartford, he was escorted by the newly formed Putnam Phalanx, which had been organized in part by Horace Goodwin.
Seymour made two unsuccessful attempts to return to the governorship in 1860 and 1863 and unsuccessfully sought the Democratic nomination for President of the United States at the 1864 Democratic National Convention, losing to Civil War general George B. McClellan.
Seymour died of typhoid fever in Hartford, Connecticut on September 3, 1868 at the age of 60. He was interred at Cedar Hill Cemetery. In 1850, the town of Humphreysville, Connecticut - then contemplating a change of name - was renamed Seymour in his honor.