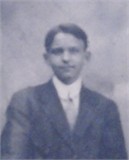 William Ford Tourtellotte (February 24, 1867 - December 16, 1948) was a member of the Tourtellotte family and an employee at Hartford Hospital for 25 years.
Tourtellotte was born on February 24, 1867 in New Haven, Connecticut to Rufus Bacon Tourtellotte and Sarah Jane Wood. By the turn of the century, after growing up in Connecticut, he began working for Hartford Hospital. In 1920, his first wife died; he remarried to Margaret McDermott after 1921 in Connecticut. He moved with his second wife and family to Wethersfield in 1933. In 1940, he was living with his daughter and her husband, Irene Tourtellotte and Theodore D. Rutherford on the Silas Deane Highway in Wethersfield.
He died on December 16, 1948 at Hartford Hospital, having lived at 312 Silas Deane Highway in Wethersfield. He was buried at Rose Hill Memorial Park.
Tourtellotte married Mary Elizabeth Scully on April 25, 1889 in Middletown, Connecticut. She died in 1920.
Grace Ethel Tourtellotte (1891-1962) - John G. Stone
William Tourtellotte (1893) - infant.
Gertrude Tourtellotte (1893-1916)
Francis G. Tourtellotte
Edith Tourtellotte (1894-1971) - m. Albert L. Smith
Zita Tourtellotte (1896-1966) - m. Arthur Donovan
Caroline Tourtellotte (1899-1991) - m. Clarence Machol
Irene Tourtellotte (1908-1980) - Theodore D. Rutherford
Alma Tourtellotte (1901-1979) - Stanley Winner
Tourtellotte married second to Margaret McDermott after 1921 in Connecticut.